---
---
Improve Sleep
Made from thick felt material to provide insulating warmth and deliver great sound absorption to dampen noise, the cave helps your cat feel safe and rest easy, especially for easily startled pets.

Size Guide:
Choose the perfect size for your cat. Choose between two sizes, and get a perfect fit for any cat.
Fun Peek-a-boo Toy
Other than sleep, cats require a sufficient amount of mental stimulation and exercise. With our cat cave, your kitty will have a fun peek-a-boo toy where they can play with you or other felines, which will actively engage their hunter ways and keep them occupied while you're busy. 
One can hide inside the cave for cozy feeling and private 'me-ow time' while the other can rest up top like some regal throne.
Features:
✔ Provide insulating warmth your cats love
✔ Deliver great sound absorption to dampen noise
✔ Large tunnel fits most adult cats, even the "chonkiest"
✔ Donut-shape bed on top for sunbath and bird watching
✔ Durable & scratch-resistant felt materials
✔ Set up in seconds with high-quality zipper
✔ Lightweight and portable
✔ The most space-saving cat tunnel bed on the market
Why the Peek-a-boo™ Cat Cave?
There's hundreds of cat cave, tunnel and bed options available in the U.S. After months of testing and refining, we are confident we have made the most functional and useful design on the market.
See What Other Cat Owners Are Saying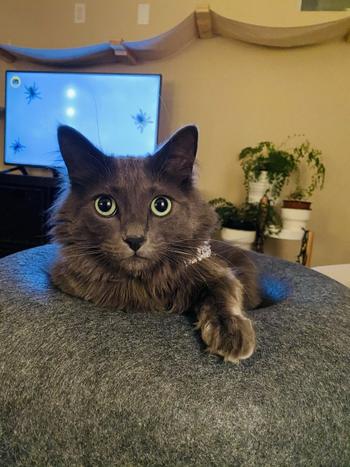 "My cat Bear couldn't wait for me to even zip the donut together and he's pretty picky with his beds and toys! What I love about the "Peek-a-boo" Cat Cave is how multi-functional it is: the inside is a tunnel, there's a cozy donut hole on top for lounging, AND cats can scratch on the sturdy felted material! Plus, it's truly stylish, and the dark gray matches everything in my living room! GET ONE! Your cat will be delighted!"
- Dave - 5/5 - California, USA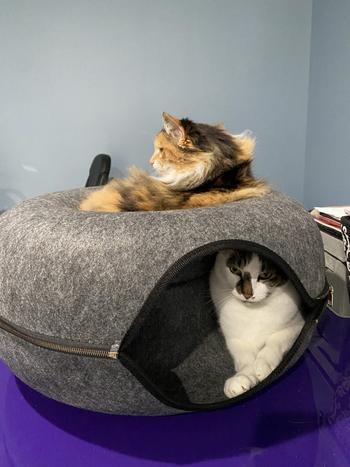 "I have one cat that loves to "perch" and she loves the top; my other cats loves tunnels and hideaways and he loves the inside to play and hide. The inside is big enough for my larger 16lb cat, and the top is very comfortable for my 11lb long-haired cat. It is very sturdy for them to jump on and play over. LOVE IT!"
- Austin - 5/5 - New York, USA
Reasons To Buy From Us
✓ Fast Customer Support
✓ Secured Tracked Shipping
✓ Hassle-Free Returns
✓ 30-Day Money-Back Guarantee  
Your Satisfaction is Our Main Priority. If you don't have a positive experience for ANY reason, we will do WHATEVER it takes to make sure you are 100% SATISFIED with your purchase.
Shipping Times
Please allow 1-3 weeks for delivery to the United States, Canada, United Kingdom, Australia, New Zealand, and all European Union Countries.
Please Note That Because We Ship Directly From Our Manufacturer Our Shipping Times May Be Much Shorter!
-If you have any questions or concerns about your order please contact help@sillydoggo.com for a Fast Response!